Some of the links in this post may contain affiliate links for your convenience. As an Amazon associate I earn from qualifying purchases.
Years ago I began learning how to dehydrate my own food. I loved being able to buy fresh produce in bulk, wash and cut it up, and then dehydrate it for long-term storage.
I bought my original dehydrator on Craigslist for about $35 and it's chugging along just fine, but today YOU have a chance to win the dream dehydrator of most every Survival Mom: an Excalibur!
A group of  bloggers decided to pool our money to host this giveaway for our awesome followers and readers. With spring right around the corner and so many are planning, or have already planted their gardens, we thought an Excalibur Dehydrator would be just the right item for our giveaway.
Please let us know what food you would really like to learn how to dehydrate. Please enter today, and good luck to all of you! What better way to be prepared for the unexpected than by learning to dehydrate food we grow in our gardens.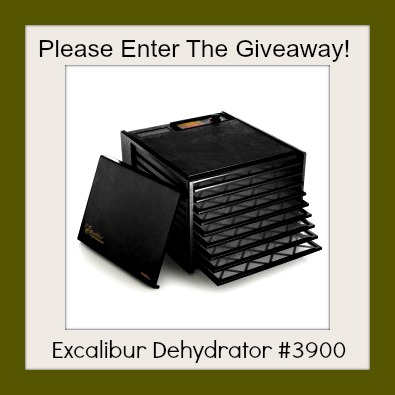 Here are the bloggers/websites involved in this fantastic Excalibur Giveaway:
1. Whole New Mom
2. Food Storage Moms
3. Home Ready Home
4. Common Sense Homesteading
5. Food Storage And Survival
6. The Survival Mom
7. Simply Canning
8. Prepared Housewives
9. Geek Prepper
10. The Backyard Pioneer
11. Survival For Blondes
We will need to keep this giveaway limited to the US (48 contingent states) because of the shipping expense.
This giveaway is not sponsored by
ExcaliburDehydrator.com
, Facebook or Pinterest. The Excalibur Dehydrator will be very similar to the picture shown. A FREE Dehydrating Book is included in the giveaway.
Giveaway ends on January 23, 2014, at 8 p.m. MT. The winner will be selected at random and notified within 48 hours. You MUST respond to that winning email or your prize
will be
forfeited, and we don't want that to happen!
The following two tabs change content below.
I'm the original Survival Mom, and have been helping moms worry less and enjoy their homes and families more for 9 years.
Latest posts by The Survival Mom (see all)